Police are often willing to go the extra mile to make sure someone is safe. This includes saving people — or animals — from drowning.
This past Saturday, two officers saved a kangaroo from drowning.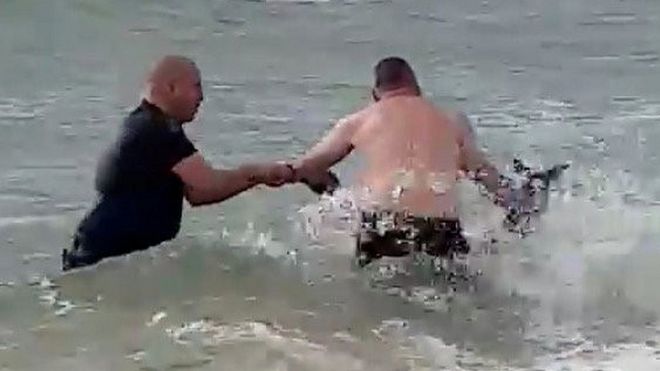 Yes, a kangaroo. And where else would a kangaroo almost drown but Australia?
Sergeants Christopher Russo and Kirby Tonkin dove into choppy waves to save the unconscious marsupial at Safety Beach in Victoria.
Russo and Kirby dragged it out of the sea and performed chest compressions in hopes of reviving the animal.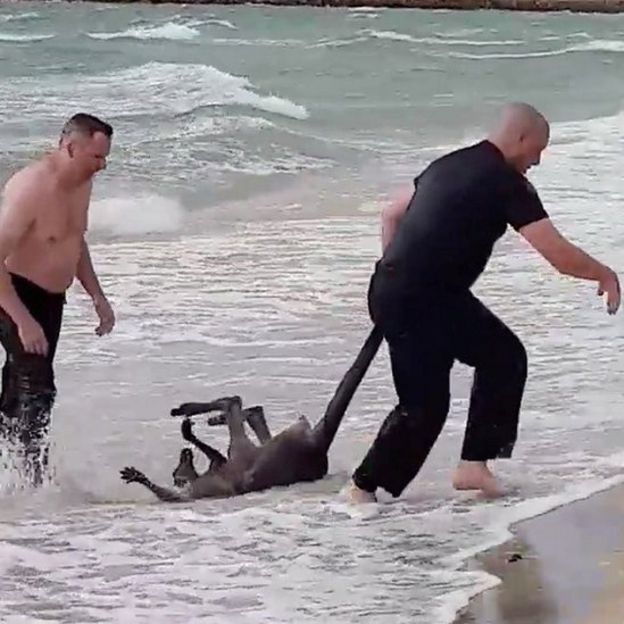 Had it not been for the two officers, odds are the kangaroo would've drowned.
Russo explained what the animal went through before being saved:
"He had less than a minute…he went under and as he came up you could see foam coming out of his nose. He was drowning."
Tonkin said saving the kangaroo was a "good feeling":
"Every life is worth saving and we just did what we could."
Twitter was concerned about the condition of the kangaroo:
Is he okay?

— Big Cats (@big_catsf) October 28, 2018
Did it live!??

— noneyabusiness (@lovelylorilips) October 28, 2018
Was it okay in the end, @VictoriaPolice ?

— Jane (@JaneTerrane07) October 28, 2018
And yes, it was confirmed the little dude was alive and well!
The kangaroo is recovering from the incident.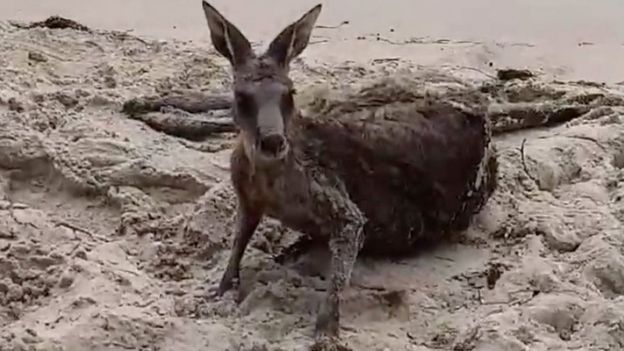 Hi Jane, The roo is currently being cared for but is said to be in good spirits ?

— Victoria Police (@VictoriaPolice) October 28, 2018
We chat to the two heroic police officers who saved a kangaroo at the beach #TheProjectTV pic.twitter.com/Zo72YXxxJ7

— The Project (@theprojecttv) October 28, 2018
People thanked the officers who helped him:
Hats off to you gents! Great job! ❤️

— Suzanne Holden (@suzanne_holden) October 28, 2018
Good to see the Police saving one of Australians' iconic Symbol,
The Mighty Kangaroo …. Sweet

— James (@hemilayer) October 28, 2018
Thanks to those Braves officers who saved the kangaroo

— Reggie Davis (@Reggie_B_Good) October 28, 2018
Thank you so much to the wonderful brave officers who saved this beautiful kangaroo, you're truly amazing, bless you ???❤️??xxhugsxx

— Frotty wonderpuss (@FWonderpuss) October 28, 2018
A wonderful sight to see, rescue people risking their own lives to save animals from dangerous Waters, well ?done guys.

— John Marlon Scott (@JohnMarlonScot9) October 28, 2018
More Angels among us!! And our most fine too!! Hope you're as proud of yourselves as we are of you!!????????

— NC Dem?EarlyVotingIsNow! (@Gin4Dems) October 28, 2018
Local resident Mia Grant saw the kangaroo bounce across the road towards Safety Beach. "I saw him swimming and started filming but he suddenly got caught in the backwash of the waves so we got him out and waited for police," she told Australian media.
But the exhausted animal became spooked and leaped back into the sea, this time with the two officers in hot pursuit.
Grant praised the officers' actions:
"You see a lot of bad things and to see someone so instantaneously race in after an animal gives you faith in humanity."
The kangaroo was taken to the local police station before being picked up by wildlife services.
"We will let him recover at his own pace but he has a paddock full of grass and lots of water to drink and he seems very happy with that," said Michelle Thomas, director of the local Animalia Wildlife Shelter.
We will definitely be looking for updates on the kangaroo's progress, and we hope to continue to hear good things.