If anyone has visited London as a tourist, they know the cardinal rule: don't piss off the royal guards. You know who we're talking about…
These guys…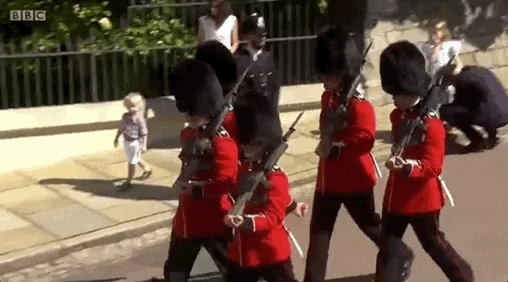 Who doesn't love a fuzzy hat!? Well, while those hats may scream 'reach out and touch me', getting close to these guys is the last thing you should do. See, they aren't a cute quaint British thing for tourists to have fun with.
They are bona fide soldiers who are actually charged with the protection of Queen Elizabeth II, and they will not let anything get in the way of their duty.
Unfortunately, this tourist found out the hard way…
The video quickly went viral.
Many placed the fault with the tourist…
He is doing his job. Totally the tourist's fault. Get over it

— ✏️Sudo_Artist✏️ https://missjaneuk.deviantart.com/ (@Missjaneuk1) July 25, 2018
Why is Sky using the headline :
'Shove a tourist out of his way'..

The headline should be :
"A tourist breaks rules by crossing a safety/security rope, then obstructs a Queens Guard, the Guardsman takes appropriate corrective action"

Lesson - Don't break the rules!!

— DRR (@Derekr1959) July 25, 2018
She was lucky it was only a push. The Queens Guard are protecting our Head of State. pic.twitter.com/BU6MH3bReJ

— Nicola Karn (@nickysmusings) July 25, 2018
Well done queens guard the tourist deserved that he should get a medal ? pic.twitter.com/fNS10u3yVQ

— rob weaver (@sportsmanlager) July 25, 2018
While others weren't too happy about it…
That's nasty no need for that

— Michelle Carroll (@lawnking2) July 25, 2018
Queen's guard? I do not see the queen there, 100% overreaction

— Blue Demon Jr (@RealBlueDemonJr) July 25, 2018
Pushing someone isn't ok. We all have jobs but we shouldn't forget we are human. This isn't acceptable. There should have been staff to keep the place clear as I doubt a little rope will keep tourists or KIDS out... will the guard push a child next time?

— Radhika J (@Radhika178) July 25, 2018
Some pointed out that the rope should have been warning enough for this tourist…
Obvs. pic.twitter.com/3aOPgNAx74

— Oz (@eosvector) July 25, 2018
If only there was a rope to stop people getting in the way !!

— amy (@collinhollin) July 25, 2018
July 25, 2018
Luckily, some explained for all of us exactly what the rules here are…
Really don't think people realise these are real soldiers, not a tourist attraction. These lads were touring Afghanistan not so long ago and are trained whilst on ceromony duties to uphold the laws, one of those is they do not stop for a photo, MAKE WAY FOR THE QUEENS GUARD

— Steve (@wilspin) July 25, 2018
They are not allowed to speak I don't think so no warning..lol.. She certainly knew what hit her..hahaha

— Andy Smith (@owsi1968) July 25, 2018
aren't they suppose to shout something like "make way/room for the Queen's guard" ?

— Jeroen (@Yerohen) July 25, 2018
Depends on circumstance. In that situation, no. He was patrolling his defined route.

— George Dukesh (@The_Flaneur16) July 25, 2018
thanks for the explanation ! ?

— Jeroen (@Yerohen) July 25, 2018
#themoreyouknow