Acting like royalty requires tons of tiny bits of information and protocol that can take years to master. It's why children in the royal family often have to go to school to learn proper royal decorum.
Meghan Markle wasn't raised a royal, so now that she's married into the royal family she's getting a crash course in these things. She's in Duchess School (yup, that's a thing) but there are going to be moments that class just hasn't covered yet.
Can a new Duchess get a little help here, guys?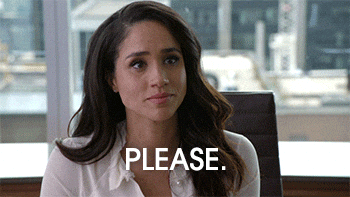 It's a good thing Megan and the Queen get along so well. According to insiders, the two have a fun, almost mischievous kind of girl power thing happening. They're constantly laughing and joking together, and that makes things easier when it comes to moments of uncertainty.
For example, over the weekend there was a bit of confusion when it came time to get into a car together. Should the queen get in first? What if she wants to sit on the other side? Does the Queen need to be outside the vehicle a bit longer for photo ops? Is it rude to get in and sit before she does or is allowing her the moment outside of the vehicle something that is considered an honor and Meghan is expected to do?
When you're riding with the Queen of England you can't just get in the car and not think about it. Faced with a moment where she was unsure of the rules, Meghan took advantage of the close relationship the two women have and just asked.
It might seem like nothing, but for a royal to just directly ask the Queen about protocol is rare and rather bold in some people's eyes. The honesty and sincerity with which Meghan asked her question – and with which Meghan is handling her new royal role in general – is something a lot of people find charming. 
The charming moment Meghan asks about protocol on who should get into the car first... and the Queen lets her go first on their first Royal Engagement together. pic.twitter.com/8dcZYkrLTW

— LBC (@LBC) June 14, 2018
Twitter is pretty divided on this one. Some people are team #QueenFirst
The queen obviously? Why would megan get in first? Even if she wasn't the queen it's generally good manners to let an elderly person sit down first

— Ashley J Davies (@Ashley_DaviesJ) June 14, 2018
Jeez... manners. Always help the elderly. The Queen is so excruciatingly subtle though...

— Comrade Ex-Kipper (@london_kipper) June 14, 2018
The queen goes first, always. Common sense tells you that.

— Kamla Gurmail (@kamlagurmail) June 15, 2018
She should have got in the car on the other side, someone needs to tell her she's not the Queen or ever will be she's just a minor Duchess

— Michaela (@Michael37311757) June 14, 2018
Charming?! Bloody rude more like, the girl needs to learn some manners

— Michaela (@Michael37311757) June 14, 2018
Others are totally team #MeghanFirst, figuring her majesty's age and station would mean that her preferences should be taken into consideration. 
Thank you. I'm wondering if we are all watching the same video. One of the minders told Meghan to go in first and she conferred with the queen who allowed her to go in first. These people just want something to grumble about

— Meta Data (@JcanQueen) June 15, 2018
Getting out of the same car video shows the issue, they only use the one door so someone will have to "scoot" over

No drama here, a Queen doesn't "scoot" she leaves that to Meghanhttps://t.co/f799CufItC

— Rose Garden (@GardenRose_) June 14, 2018
Everyone knows wiggling over to the far side is a helluva lot of shimmying. Our Queen is conserving energy rather than being polite lol

— Liska (@NewMumOnline) June 15, 2018
Understandable. The Queen is of a certain age and has to move up to the other side of the Royal vehicle if she gets in first. That is not done! So it's understandable and corteous of Meghan to step in first.

— Eva (@rettob) June 14, 2018
Except that clearly who ever got in first would have to move themselves over to the other side of the car. Maybe a biit difficult for an old woman.

— Dr TrisPriceWilliams (@tristanpw1) June 14, 2018
So what's the right answer? Meghan was asked to enter the vehicle first. That way, the Queen doesn't have to scoot over and is given a few extra moments for photos.
"Queens never slide" - Julie Andrews, The Princess Diaries

— Melodye Joy (@modelmelodyejoy) June 14, 2018
She's learning. Lots to learn in public eye. Handling all with grace and a smile. Royal family taking great care. Nice to see.

— DoJo (@DorieJH) June 14, 2018
They both handled it like champs!

— BlackLadyBug (@verchetta) June 14, 2018
Love this. They handled it so elegantly.

— RHONDA JOHNSON-COGER (@Msmoneygirl2) June 14, 2018
Things seem to be going very well for the new Duchess, all things considered!
On the job training!
Everybody has a "first day at work"

Love her!!!

— sexysportsfan (@sexysportsfan) June 14, 2018
It will all come together she is going to be great

— Peter John Franks (@bapsy3732) June 14, 2018
Y'all made it awkward, she just asked a logical question.

— Nicole Ⓥ (@LernsMuse) June 15, 2018
Yeah. A queen never slides

— Princess Adunbarin Folashade (@dacrownofwealth) June 14, 2018
I think it is good that the duchess of Sussex joins the Queen. After all Meghan is "grandchild in law". This is the way the Queen can teach her a lot of royal ways of doing things??

— Sofie Bergman (@bergman_sofie) June 16, 2018
Awww they are so cute together. You can tell they like each other a lot.

— Maria Ortiz (@MariaZitro59) June 16, 2018
Awesome that Meghan straight out asked HM what's her preference...shows that she is comfortable in HM's company and willing to learn.

— Toni-Leigh Igric (@Tonileighigric) June 14, 2018
It's getting to a car..a car..what's the big deal?

— Marie (@iluvcha337) June 14, 2018