Spotting bears in Altadena, California, isn't exactly newsworthy. Most of the time.
The small California city, with a little under 43,000 human residents, is nestled right next to a national forest … and bears? Bears kind of dig that sort of thing.
According to residents, the bears of Altadena are actually pretty courteous neighbors.
Well, better than many of the humans, anyway.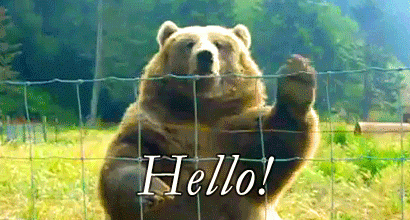 But one bear got a little bit too neighborly, though.
Mark Hough had been relaxing in his back yard. He had to run inside for a moment, leaving his margarita behind since he was coming right back.
Mark isn't sure if the bear had been watching him or what, but before he could go back outside, a bear lazily climbed over his fence and into his yard.
Mark grabbed his phone to film, figuring he would get cool video of a bear walking around his yard. But Mr. Neighborbear had plans to put on a much, much better show for Mark – and for all of us here on the internet.
He lumbered around a bit, then plopped himself happily into Mark's hot tub – which was unheated because it was already stiflingly hot. So think of it like a pool – but with jets!
Mr. Neighborbear certainly did. 
The bear hung out in Mark's hot tub splashing and playing for a while. Mark told interviewers that he was pretty sure the bear thought the jets of his hot tub looked like currents in the natural rivers and streams of the area.
As far as he could tell, the bear seemed to be looking for fish in the water as he cooled off. Unfortunately for Mr. Neighborbear, Mark doesn't normally stock fish in his hot tub.
Then something glorious happened.
Much like us on the weekend, and Jimmy Buffet on the daily, the bear caught sight of the margarita that Mark left behind and was like: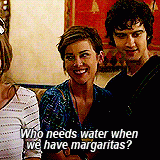 Mark wasn't able to catch the margarita party on camera from where he was, but the bear drank his margarita and then decided it was nap time.
Again, much like us on the weekends. We feel you, Mr. Neighborbear.
He found himself a comfy-looking tree and decided to just snooze it out.
This bear might be our hero – and Twitter's too!
This bear is having a better summer than I am

— Suni Vallun (@SuniVallun) July 3, 2018
— bre alright (@wootBre) July 3, 2018
This bear is living my dream life

— Dor¡s (@iDorisV) July 3, 2018
— RITAS (@TheRITAS) July 3, 2018
Looks like someone know how to live a stress free life.

— David Hung (@pinky_founky) July 4, 2018
The bear has had a bad week. Leave bear alone

— Stephanie So What (@Stephaniesowhat) July 3, 2018
Bear is looking at the camera like "wtf you going to do about it Ted?"

— Sloppy Papi (@akisan790) July 4, 2018
Properly festive bear.

— Rachael Dahl (@rachaelalyse) July 3, 2018
"The heat is just unbearable" – Bear

— steve (@pizzaandranchh) July 3, 2018
If there was a lion and a tiger added to the story … Well: "Oh My" LoL ?bears gone wild in suburbia!

— Lora O'Flahrity (@OFahrityLora) July 3, 2018
As cool as Mr. Neighborbear seems, Mark made the right choice by staying inside until the bear left. Bears are wild animals and should never be approached by the public, just like all wild animals.
We're sure Mark just made himself another margarita and enjoyed the show.
You can watch Mark's video here: