The 2019 Coachella Music and Arts festival was one for the books… though maybe not in a way festival goers intended.
The talent was incredible, the fashion was cutting edge, the artistry was iconic…
And the herpes outbreak was massive.
Yeah, that last part might be a bit of a problem.
HerpAlert is a digital herpes diagnostic and help center that sees an average of about twelve patients per day. The app allows users to upload images of the area of concern and a medical professional will review them and provide advice as well as medications when needed.
As soon as the first day of the Coachella music festival, the average of twelve cases began to skyrocket. By day two, the app had logged almost ten times the herpes cases it normally sees.
Now that the festival is over, the area surrounding it (Coachella Valley, Indio, Palm Desert, Los Angeles, San Diego and Orange County) have all seen very noticeable rises in cases of herpes.
The app itself has logged over 1,100 cases over a time period where it would normally see well under 200. That's over a 400% increase in herpes cases since the Coachella music festival got to the area this year.
This is possibly our favorite use of this Rita Moreno gif ever: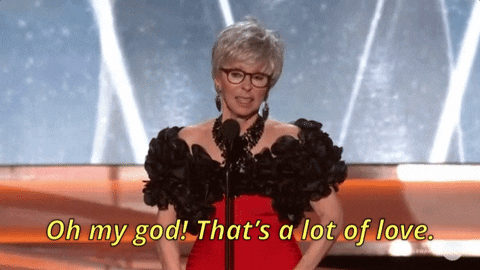 So look, herpes isn't that uncommon, and it's pretty easily treatable nowadays so there's no real need to panic. Just see your doctor as soon as you suspect something might be up.
Many local clinics and organizations like Planned Parenthood will see suspected STD cases at low cost or on a sliding pay scale. Planned Parenthood would also like to remind you that herpes cannot be contracted by sharing food or drinks, only by direct skin to skin contact and sexual activity.
It's also important to keep in mind that the symptoms of herpes may not show up right away, so it's quite possible that a significant number of people showed up at Coachella already having herpes and not realizing it.
Twitter has gotten wind of the herpes outbreak and is having a field day with it.
No I did not get herpes at Coachella... so if ya'll could stop dm'ing me asking that'd be greeeeeaaaaaat ????

— Jake Howard (@jakehoward67) April 28, 2019
someone w herpes popped out to coachella like imma fuck it up this year pic.twitter.com/oTe2qq27YL

— . (@kidpoom) April 28, 2019
lets be honest, if you're willingly rawdogging it at coachella you probably dont give a shit about getting herpes https://t.co/7hJirR4zqE

— Carlton (@SlopingGiraffe) April 28, 2019
Y'all probably already had herpes and just didn't get tested until after Coachella and that's the tea https://t.co/YqleSX9UBF

— Sam (@SamHallenbeck) April 28, 2019
Contrary to previous reports about a massive surge in 1,105 folks at Coachella seeking treatment after contracting herpes while at the festival, health officials now say that they arrived at Coachella with the herpes or other (sexually transmitted infections) #HHWHBR pic.twitter.com/AsI8C2qZcA

— #TurnItUp (@HomeboyzRadio) April 28, 2019
Lmfao! #Coachella #hoechella #CoachellaHerpes pic.twitter.com/LqAi97JbLd

— LexXxia (@sucka_free_lexy) April 28, 2019
While I was in the pit, this guy next to me was like "I went to coachella...but I don't have herpes I promise" LOL

— stephanie???? (@snvalerio_) April 28, 2019
I survived The (not so)Great Coachella Herpes Outbreak of 2019.

Praise. ????????????

— Danyelle Leah (@Elleynadleah) April 28, 2019
Everyone at Coachella: damn that shit was fun can't wait to go back

Herpes: pic.twitter.com/MvPSXfccLV

— Uchiha (@kingzyphree) April 25, 2019
You staring at all of your friends that went to Coachella trying to figure out which ones have herpes now pic.twitter.com/x1PVFRvter

— mattjv (@bbqmacncheese) April 25, 2019
"I'm so glad I didn't go to Coachella because of this herpes outbreak"

A moron who has raw sex with complete strangers ????????????‍♂️

— bueno (@JayyGood_23) April 25, 2019
Mfs talking down on Coachella herpes outbreak like them and their homeboys didn't catch it here in West Covina pic.twitter.com/emfllCHOYN

— Alejandra Jimenez (@OptimisAle) April 25, 2019
Measles in LA & Herpes in Coachella... I'm staying home forever

— L i z???? (@lizetteo_) April 26, 2019
So … yeah… play safe out there, folks.