Taylor Swift just had a total Spinal Tap moment. No, she didn't need a spinal tap, but she had a moment similar to a scene in the movie Spinal Tap. In the film, the band gets stuck inside of their props during a show.
They power through but are hilariously humiliated.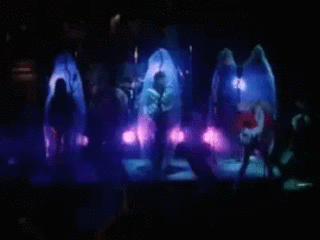 It's happened to bands in the non-fiction world as well. U2 famously found themselves stuck inside of a lemon during a world tour…twice. Tommy Lee of Motley Crue got stuck mid-air on his drum kit. It happens more than you'd think.
Taylor Swift fell victim to the stuck-in-a-prop curse at her recent Philadelphia show. The prop, a sparkly basket, was supposed to lift her into the air and glide over the crowd, then deposit her on a second stage. The songstress was performing her hit "Delicate" when the basket shenanigans ensued. She stepped in, the basket went up, and…that was about it.
Of course fans documented it all on Twitter. 
So in the middle of #Delicate, #TaylorSwift noticed that she was kind of stuck in mid air... @taylorswift13 #ReputationTour pic.twitter.com/Nym50Wy7Vp

— Lisa Marie Latino (@LisaMarieLatino) July 15, 2018
TFW you get stuck on stage with no instructions and casually break out into "Our Song" a capella ?? #repTourPhilly #reptourphiladelphia @taylorswift13 @taylornation13 pic.twitter.com/RnP3mXqPw7

— Alexandra D'Aluisio (@allydaluisio) July 15, 2018
Taylor getting stuck and not knowing how to get to B stage (AKA being the cutest human ever) more clips to follow! #reptourPhilly @taylorswift13 pic.twitter.com/v3COq68RuG

— Meg // FRIDAY THE 13TH (@MegNFry) July 15, 2018
So part of @taylorswift13's #RepTourPhiladelphia set malfunctioned, so she improvised with an impromptu performance of #WildestDreams! @taylornation13 pic.twitter.com/wN3tSpcAfe

— Kaitlin Cubria (@KCubes) July 15, 2018
Being a seasoned performer, Swift just went with it. She told the crowd she was pretty sure she was stuck up there, but it was okay because the view was nice. She had an earpiece and could hear her crew talking to her, but the only way to respond was to talk into her mic, so the whole crowd got to be involved in the "rescue" efforts. She chatted a bit, then decided it was time for a singalong and performed "Our Song" and "Wildest Dreams" without the help of her band — just her and the crowd.
Fans are pretty impressed by how she handled it!
Most people would be freaking out stuck in the air hanging above 60,000 people, but Taylor Swift sings an a cappella set instead... I'm fine

— Maranda (@drUnkONTaYtAy) July 15, 2018
Let me get this straight. @taylorswift13 gets stuck, sings to pass the time, keeps the showing going as smoothly as possible, still walks through the crowd, is still doing rep room tonight AND is doing all of this while sick? Can we just take a moment to appreciate her some more?

— Ruwa // Met Taylor 7.11.2018 (@SwiftieRuru) July 15, 2018
.@taylorswift13 got stuck in her light up basket so she had improvise and she acoustic to get to the other side. And she did it like the boss that she is. #RepTourPhilly pic.twitter.com/IcCUeUKWSe

— Nicole Michalik (@NicoleisNik) July 15, 2018
The level of professionalism and maturity she showcased in that moment was inspiring. Instead of trying to sound edgy and bossy she was actually understanding and handled it calmly while giving fans two extra acapella songs.

— Shivam Murari (@Shivam_Murari) July 15, 2018
She handled this like the rockstar she is

— Rhonda Dolen (@RhondaDolen) July 16, 2018
These are the highlights of last night show!!!!!! I LOVE IT!!!!!!!! look how amazing she controlled the situation. She's the cutest human on earth.

— TS (@jff_life) July 15, 2018
So there you have it. If you ever find yourself stuck in a basket suspended above 60,000 people, just hang out and sing a song and things will be fine! Okay, that's terrible advice, but we're glad everything worked out. Her Swifties love her even more now!