Shayne Holland was sitting at the pool of his apartment complex in Indianapolis, Indiana, when a woman approached him. The woman, who did not identify herself, demanded to know if Holland – the only Black man at the pool that day – belonged there.
"She didn't introduce herself, she didn't say hello," Holland told WRTV-TV.
"She says, 'Do you live here?' I'm like, 'Yes, I live here, I wouldn't be here if I didn't live here'."
But when she demanded to know exactly where he lived, Holland told her he wasn't comfortable giving his address to strangers.
"I'm like, 'I live over there, but if you're asking me for my address, I mean, I don't feel comfortable giving you my entire address without knowing who you are'."
Then the woman, an off-duty police officer who still had not identified herself and was wearing a badge for a local security company, demanded that Holland leave the pool area. Holland also alleges the woman accused him of climbing over the fence to gain access to the pool.
Holland insisted he had done nothing wrong, which witnesses at the pool confirmed, and had a right to be there. He even showed the woman his key fob that works as access to the pool area.
By this point, everyone else sitting poolside was like: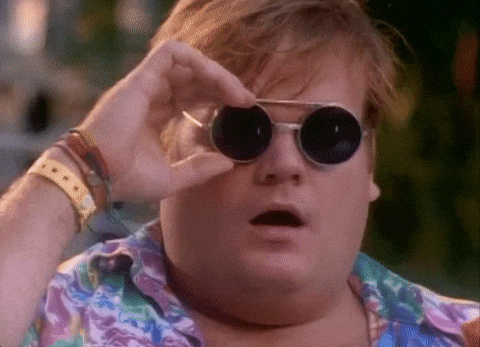 The harassing incident eventually caught the attention of the property manager. The River Crossing Apartments employee came out and admitted that yes, Holland was a resident who she knew on a first name basis.
The manager tried to resolve the situation — by telling Holland to leave.
Her reasoning? He didn't give out his full address to an unidentified stranger when she asked for it. 
When Holland again showed his key as his right to be there, the officer snatched it from him. The escalation of the incident was caught on video.
Watch it here:
I actually live here, so I'm assuming they told the police that it's not too many black people that do so if you see one make sure you get their address. RiverCrossing Apartments. pic.twitter.com/IgOx3DByUi

— Quick (@HollywoodShayne) July 6, 2018
I asked everyone in the pool if the police officer asked their name address and confirmation. The white woman @ the pool responded, she didn't do nearly as much for us as she did for you.. smh pic.twitter.com/i9LLPaKRzQ

— Quick (@HollywoodShayne) July 6, 2018
But Holland didn't post his video on Twitter originally. The River Crossing Apartments resident posted the video in response to another incident at the same pool involving the same property manager.
Just days before this, the River Crossing Apartments employee removed all of the black people from a community BBQ pool party. The manager stated the party was causing a disturbance and it needed to disperse.
She only removed the Black men, women and children while White pool goers were allowed to stay.
Angry residents were able to catch the tail-end of the situation on video:
So yesterday at River Crossing at Keystone at the crossing we were kicked out of the pool and our Bbq was shutdown for no apparent reason as this lady who said she was "property manager" preceded to let every white person that was there stay and only kicked out all black ppl pic.twitter.com/vmFlKt8e2p

— WildStyle (@WildStyleCapone) July 5, 2018
And a look through the comments section yields mention of another incident as well.
Bruh after the first time I was there & we got kicked out, the video I saw of y'all on the 4th & now this I'm sooo coo off your pool

— Kuddy (@Kyre_Living) July 7, 2018
The River Crossing Apartments owner, Barrett & Stokely, issued a statement that the property manager "was immediately placed on administrative leave and an internal investigation began."
But many on Twitter want to know why she still has a job.
When you do a bit more research you lean that this manager has a history of kicking Africa America tenants out of the pool area. This is her second time caught on camera.

— Varawin (@VarawinAshford) July 12, 2018
Administrative leave is NOT sufficient. FIRED is the only appropriate action acceptable.

— A.C. (@ACLolita) July 12, 2018
Should have been sacked, Shameful indeed.

— Nazim Hasan Khan (@Nazimhk) July 12, 2018
This is crazy man, so the manager was just placed on leave not fired?? Sounds about white ?

— Mr. Wave (@MistaWave) July 12, 2018
— Enid Moyeno (@moyeno) July 13, 2018
Others are asking for consequences for the off-duty police officer as well.
They should both be fired and the person should file a harassment suit against both immediately

— Cheryl VanDusen (@vandusen_cheryl) July 12, 2018
That STUPID RACIST COP needs to be FIRED along with that RACIST Apartment manager. I'm a white retired Army Major and this is the typical response from white people now since WHITE ASS TRUMPY took office! You go brother. Take both to court and get every penny out of them!!

— Gerard Faulk, Jr. (@gfaulk88) July 12, 2018
The manager and cop should be fired. Sue the complex

— Chow Pang (@chow_pang) July 12, 2018
Holland filed a complaint against the off-duty officer with the Citizens' Police Complaint Office and plans on speaking to the Indiana Civil Rights Commission.
"We have talked with several concerned members of the community and will continue that dialogue for the foreseeable future," said Indianapolis Metropolitan Police Department Sgt. Jim Gillespie in response to the incident. "The Executive Staff has received preliminary information, before and after the video, about the circumstances and will await the findings of the internal investigation."
H/T: New York Times, Raw Story, Twitter