"I watch so many murder shows that I'm afraid to close my eyes in the shower." 
True Crime shows are addictive. Whether it's a newer show like The First 48, or a classic like Unsolved Mysteries (shout out to the O.G. host, Robert Stack, for being the voice of our nightmares for yours), once you start you can't really stop. We used to have to hope for a marathon on TV, but now with platforms like Hulu or Netflix, we can get our true crime fix any time we want for however long we want.
Is watching true crime shows for 9 hours straight healthy? We're not sure, but as long as you're not doing it for research purposes it should be okay, right?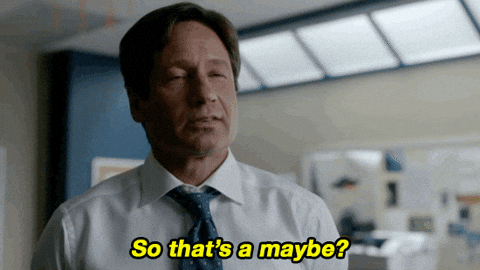 After our last binge-sesh we decided to check Twitter to see if other people were as into it as we are, and it turns out YES! Other people really are blowing entire weekends snuggled up with a bowl of chips and some TV murder. 
Here are some of our favorite tweets from other true crime fans:
1. That's Real Love
If things go well you can walk down the aisle to the creepy theme music!
I just want to find someone to watch unsolved mysteries with.

— Bitch (@SarahKvetch) March 24, 2018
2. The Palate Cleanser
Let's lighten the mood with a little murder, shall we?
Pretty stressed out about how dark the news is recently – better get back to my true crime podcasts, true crime shows, and true crime books

— Mike Drucker (@MikeDrucker) March 23, 2018
3. Love
Is this why we're all forever single?
Forensic Files will destroy your outlook on love. All these "happy married couples" having affairs and poisoning each other with arsenic…wild

— e.c.☠ (@emily_larraine) March 29, 2018
4. It Never Is
Honestly, what would we even do if it was us? Do we call someone? Is there a
TV: "These are Unsolved Mysteries, perhaps someone watching at home can solve them. Perhaps that someone is you"

*prying off twist off cap w/ a bottle opener*

"No it's not"

— Vanessa Gritton (@nesgritton) March 27, 2018
5. FINALLY, A Topic We Know About
Our time has come. Let's do this.
WE ARE TALKING ABOUT SERIAL KILLERS IN PSYCHOLOGY TODAY MY TRUE CRIME OBSESSED ASS IS QUAKING pic.twitter.com/ngDmlSjUdW

— love, cat (@filmgloss) March 29, 2018
6. Making It Worse
… … … Same.
For someone with extreme anxiety I sure do love true crime shows

— clarinet Ⓥ (@fit_with_hips) March 26, 2018
7. High School
Okay, but you're probably having a better time honestly.
People from my high school are getting engaged and I'm eating cereal in bed while watching true crime videos ??‍♀️

— Lil' peach (@addieeckert) March 26, 2018
8. Every Mood Is Murder Mood
Sad? Murder. Happy? Murder. Hungry? Murder, but with pizza.
I just want to lay in bed and watch murder shows. No matter what mood I'm in.

— Kristina Connolly (@kristina_ruth3) March 26, 2018
9. Heaven
Yes. Yes, it is.
THIS TV HAS AN ENTIRE SECTION OF TRUE CRIME SHOWS AM I IN HEAVEN!?

— Hannah Duffy-Dries (@ehduffyd) March 29, 2018
10. Nightmares
Admitting you have a problem is the first step to solving it… unlike these murder mysteries.
Me laying here watching some murder mystery shows even though I know good and well It's gonna make me have nightmares pic.twitter.com/mcp6Uoms3N

— Seibrina Huckaby (@Seibrinaaa_) March 19, 2018
11. The Office Crazies
We've just accepted our fate at this point.
Three 30-somethings in my office tried to explain "Unsolved Mysteries with Robert Stack" to a 22 year old, and we honestly sounded like crazy people.

— Tenacious Grace (@TenaciousGrace) March 27, 2018
12. Switching It Up
Variety is the spice of life.
me: wow i should take a break from the kidnapping and murder shows and read a book
me: *reads a book about kidnapping and murder*

— Sassy (@sassyatlaw) March 27, 2018
13. Can't Stop Won't Stop
"Show yourself coward" made us laugh really hard… then stop suddenly because we realized we are totally this person.
who the fuck is scraeming "STOP LISTENING TO TRUE CRIME" at my house. show yourself, coward. i will never stop listening to true crime

— Not to worry, we are still flying (@half_a_ship) March 28, 2018
14. An Accent Now
But is it an upgrade?
been watching so many british/scottish murder shows my inner voice has an accent now

— katie belser (@katiebelser) March 29, 2018
15. Most Appropriate GIF Ever
We appreciate you, show that's just like every other show.
when I find a new show to watch that's exactly like literally every other true crime/ murder mystery show that I've watched pic.twitter.com/wbHOwwx6cN

— Diamond (@azaeliastanks) March 27, 2018
16. Harsh
*sips tea*
I'm watching a true crime show about the Amy Fisher story and frankly I can't believe Trump hasn't given Joey Buttafuoco a cabinet position yet.

— Rebecca Cohen (@GynoStar) March 25, 2018
17. Ulterior Motives
We're onto you…
Why is the Forensic Files narrator's voice almost too comforting????? As if perhaps he's trying to lull you to sleep and MURDER YOU??????

— Chelsea Jenkins (@cheelzebub) March 27, 2018
18. Ulterior Motives: Part Two
We're onto you, too, lady!
Another weekend and my wife is watching one of those true crime murder shows where the wife kills the husband. I often wonder if she is taking notes.

— Richard J Dadamo (@DickDadamo) March 18, 2018
19. Oh We're Winning This
Who could we get to host?
family feud but all the categories are about serial killers and true crime

— Tracy Boomeisha-Ann Clayton (@brokeymcpoverty) March 24, 2018
20. Food Forensics
We're going to go look for this episode now.
this is why forensic files is my favorite tv show pic.twitter.com/OMOTTTmuMY

— LL Crumbs (@brain_stain) March 23, 2018
21. Scare-roused
Run, girl. RUN.
Came home to my husband watching ID Channel, dinner cooked and an empty sink.

I have never feared for my life and been simultaneously turned on than I am in this moment.

— Judy from the internet (@jnapsalot) January 24, 2018
22. Big Mood
We feel so understood right now…
This murder show I'm watching hitting me with a BIG mood pic.twitter.com/VnzDfqBonL

— Melly in DC (@mellyindc) March 21, 2018
23. Feeling Better
People like bowling that much?
This Forensic Files episode features a cop who burned down his house and murdered a random guy so he could get insurance money to enter a bowling tournament and now I feel very slightly better about my life.

— Liz Finnegan (@TheGingerarchy) March 28, 2018
24. Different In Your 30's
But kind of better, though. Be real.
In bed with a drink while watching a true crime show on tv. St. Patrick's Day in your 30's is a lot different than 20's.

— Holly (@TheMrs09) March 18, 2018
25. Us, Too
All crimes should be committed while wearing hazmat suits and with empty pockets. Jeez.
*watching forensic files*
Narrator: "he left his candy wrapper at the scene of the crime"
Me: "WHAT AN IDDIOT" pic.twitter.com/I9o1hEg29v

— Grace (@grayseareads) March 20, 2018