Rocker Meat Loaf recently sat down with Rebecca Davison from the Daily Mail to discuss his new partnership with Frankie and Benny's for their new vegetarian menu.
The marketing scheme revolves around the fact that Meat (short for Meat Loaf) backs VEG.
However, the interview quickly turned away from the "great Italian American food" that Meat is promoting.
Watch here.
At one point Meat Loaf, real name Marvin Lee Aday, weighed 265 pounds. After an 11 year stint as a vegetarian, his weight dropped to its current 195 pounds.
The 72-years-old explained that he would go out with "good looking girls" even when he was a "fat motherf*****".
Despite his excess weight, Meat described himself as a sex god.
"These days men don't open the doors, they don't do anything right. Truthfully, all they go out for is to get laid. I've never done that. It's not my first option; never has been – and that's why I've gone out with all these good looking women."
He also detailed how he had a threesome while in school.
"Oh yeah, that was the first double I had. We were making out in the parking lot in my mother's car."
He is currently married to Deborah Gillespie.
Meat Loaf also shared his weight loss tips with Daily Mail.
"Don't eat anything over 5g of fat and 3g of sugar. I once did a low carb diet and lost 70lbs but I put it all back on."
Somehow the conversation took a turn to politics.
The singer worked with President Trump on The Apprentice back in 2010. Meat explained that he does not believe in climate change.
Not only does he believe it's a fallacy, but he believes that climate change activist and teenager, Greta Thunberg, is "brainwashed."
"I feel for that Greta. She has been brainwashed into thinking that there is climate change and there isn't. She hasn't done anything wrong but she's been forced into thinking that what she is saying is true."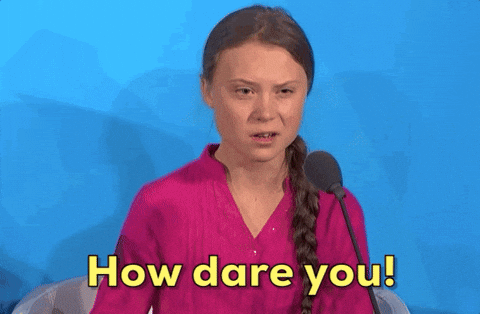 At the time of this article's writing, it is Greta's 17th birthday.
Meat Loaf's partnership with Frankie & Benny's is in full swing now that it is Veganuary.
'Veg Loaf'? He'll do anything for veg, but he won't do that!

Meat is backing our vegan menu this January. Check out the video here: https://t.co/zSFRsx7JXs pic.twitter.com/d7G7iuIjrz

— Frankie & Benny's (@frankienbennys) January 2, 2020
A good gift for either or them or anyone might be this shirt, available here.