Former First Lady Michelle Obama is no stranger to cutting a rug. She and President Obama were often seen dancing together. She also used dance as part of her health initiatives, and she has been known to graciously and enthusiastically jam out during several of her guest appearances on television shows.
Dancing with White House visitors? Yes, please!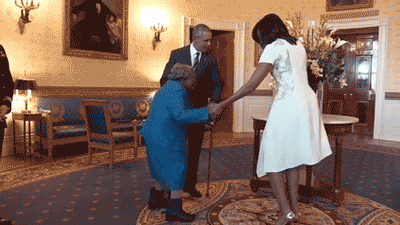 Michelle Obama is also a pretty well-documented fan of Queen Bey, just like the rest of us. When the Beyonce/Jay-Z tour had a stop in Paris, Obama and her daughter, Sasha, couldn't resist. Sasha hung out in the stands but once the show got going, Michelle was nowhere to be found.
That's because she had made her way down right by the side of the stage to hang out with the cool kids…namely Beyonce's mom, Tina Knowles. The pair made waves all over Twitter as people filmed them enjoying the show.
And they SO enjoyed the show.
.@MichelleObama & Ms. Tina dancing at Beyoncé & JAY-Z's show in Paris tonight. #OTRII #Round2 pic.twitter.com/lQsAnmzhtg

— BEYONCÉ LEGION (@BeyLegion) July 15, 2018
Michelle Obama dancing to "On to the Next One" at night 2 of the Paris stop of JAY-Z and Beyoncé's #OTRII pic.twitter.com/F2JagQXfGc

— JAY-Z Daily (@JAY_Z_Daily) July 16, 2018
Former First Lady #michelleobama & Ms Tina living it up at #beyonce & #jayz's show in Paris! Before taking the stage they showed the #worldcup final on the big monitors @nbcwashington #OnTheRunTourII pic.twitter.com/GpPEbw74aM

— A N G ?‍♀️ E (@OhMyGOFF) July 16, 2018
The verdict is in: she was a hit! 
On July 14th 2018??? I was at a Beyoncé concert with Michelle Obama. So me Beyoncé and Michelle were breathing the same oxygen I HAVE MADE IT!!!!!??

— Preciousmojo (@preciousmojo) July 16, 2018
OMG THE OBAMAS ARE HERE IN THE SUITE BEHIND ME OMG ITS MICHELLE OBAMA AT A BEYONCÉ CONCERT OMG #FrancevsCroatia #OTRII

— Professional Powerpoint Maker (@panda_pri94) July 15, 2018
Do do dat mom dance First Lady ?

— J (@Jayeveryday2012) July 16, 2018
Watching a vid of @MichelleObama rocking out at the Beyonce concert in Paris. She is living her best life…yaaas!!!

— Sonia (@gakurusonia) July 17, 2018
— Dee Lee Bee ????? (@deeleebee54) July 16, 2018
Yes, Mama Tina and First Lady Michelle. I love them. pic.twitter.com/ILccMn2dhQ

— HouseOfZakiyah.com? (@houseofz_) July 15, 2018
Bad ass black women..from the baby Sasha up to Mama Tina.

— iranotironic (@realiralevi) July 17, 2018
We'd say we hoped Michelle had a good time but, from the videos, we can tell she absolutely did. Keep being "Flawless," Michelle!
H/T: Daily Mail, Twitter