She's one of the most successful—and beloved—women in Hollywood, but if you think her talent has made it come easy for Mindy Kaling, think again.
In a recent interview with Elle, Kaling opened up about nearly being stripped of her Emmy eligiblity during her tenure at the iconic NBC comedyThe Office.
Kaling, who was an actress, executive producer, director and writer on the show (which is a lot to just type, let alone do), nearly had her producer credit stripped by the Television Academy, which would have made her ineligible for any Best Comedy Series wins.
The Academy asserted that there were simply too many people in the credits for the series, but it was Kaling, and only Kaling—the sole woman of color on the team—who was singled out for scrutiny—and was forced to be vetted by her white, male colleagues.
TV Academy Responds to Mindy Kaling 'The Office' Comment, Says She Wasn't Singled Out for Emmy Vetting https://t.co/o1Rz8f0tgp

— Variety (@Variety) October 9, 2019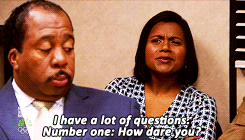 Kaling told Elle:
"They made me, not any of the other producers, fill out a whole form and write an essay about all my contributions as a writer and a producer. I had to get letters from all the other male, white producers saying that I had contributed, when my actual record stood for itself."
But the Television Academy disputes her claims, saying that under the policies in place at the time, all producers were forced to prove their credentials.
In a statement to the Los Angeles Times, the Academy explained:
"No one person was singled out… Every performer/producer and writer/producer was asked to justify their producer credits. We no longer require this justification from performer/producers and writer/producers…"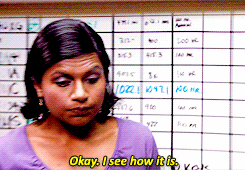 But Kaling wasn't buying it, because none of her other The Office colleagues was submitted to the same vetting even though they were also performer/producers.
Respectfully, the Academy's statement doesn't make any sense. I *was* singled out. There were other Office writer-performer-producers who were NOT cut from the list. Just me. The most junior person, and woman of color. Easiest to dismiss. Just sayin'. https://t.co/frT2pQUfLF

— Mindy Kaling (@mindykaling) October 9, 2019
Kaling went on to post a short Twitter thread further detailing the incident—including the risk she was taking by speaking out.
I've never wanted to bring up that incident because The Office was one of the greatest creative experiences of my life, and who would want to have an adversarial relationship with the Academy, who has the ongoing power to enhance our careers with awards? (1)

— Mindy Kaling (@mindykaling) October 9, 2019
Kaling also said she found the whole thing "humiliating."
(2) But I worked so hard and it was humiliating. I had written so many episodes, put in so much time in the editing room, just to have the Academy discard it because they couldn't fathom I was capable of doing it all. Thankfully I was rescued by my friends, the other producers.

— Mindy Kaling (@mindykaling) October 9, 2019
And she further underlined the unequal treatment minorities so often receive in Hollywood.
(3) The point is, we shouldn't have be bailed out because of the kindness our more powerful white male colleagues. Not mentioning it seemed like glossing over my story. This was like ten years ago. Maybe it wouldn't happen now. But it happened to me.

— Mindy Kaling (@mindykaling) October 9, 2019
As for the rest of the internet, they were pretty firmly on Team Kaling!
It shows an amazing amount of strength and dedication that you followed through with the process and knew your worth. You are who you are because you kept going. Thank you for fighting to be seen and heard so that we can continue to hear your voice and laugh with your stories.

— Mary (@stringoflightsx) October 9, 2019
WOW. isn't it nuts the stuff people can't talk about because they/we should feel grateful for jobs/opportunities… the academy should have put out an apology instead of a defense.

— Audrey Wauchope Lieberstein (@audreyalison) October 9, 2019
What a statement. Shame on the Academy. Thank you for sticking up for yourself, very inspiring ????????❤️ pic.twitter.com/YBgdjQpiYV

— Syd. JT (@SJT____) October 9, 2019
Months ago I read a reddit post about how you saved the Office after season one, and in rewatching it I am always amazed how easy it would be to miss what an incredible role you played in its success.

— Danielle Richards (@hello_ielleow) October 9, 2019
We love you! Speak the truth! pic.twitter.com/KgWyHCjKzy

— Kelsey (@Kelseycoz) October 9, 2019
As a devoted Office fan but as a more devoted Mindy Kaling fan I am glad you brought it up and very sorry it happened. I believe you and believe this story is important for people to acknowledge and keep sharing

— Amber Frost (@FrostAmber) October 9, 2019
Too often the relevance of a woman's work depends on it being sponsored by a man. It's exhausting. And, you are incredible.

— Liesel Brooks (@iamlieselb) October 9, 2019
Mindy Kaling fucking made that show, how DARE they do this to her. She wrote the funniest bits & directed a ton of the important scenes. Her character Kelly Kapoor is iconic. Absolutely ridiculous they forced her to bow & scrape. pic.twitter.com/0W8QPDko17

— My Friend Binnie (@quabbityash) October 9, 2019
god I wish this bullshit was surprising. I hate that someone as brilliant as @mindykaling was subjected to that crap

— QuiteContrary (@maryzorn) October 9, 2019
And the story prompted other women of color to relate their own similar experiences.
I've had non-POC coworkers insinuate (without malicious intent!) that I'm doing too much but, really, that's just how I gotta be at work in this skin. Especially if I'm working in a predominately white space.

— Natasha Ishak ???????? (@npishak) October 10, 2019
"I've never had the luxury of presenting as mediocre." THIS SO MUCH! I've witnessed some, um, poor behavior from non-POC coworkers — in front of supervisors! — and I'm just like ???? wow, I could never do that lol

— Natasha Ishak ???????? (@npishak) October 10, 2019
This part. Felt this in my core. pic.twitter.com/M4LyteLyrA

— Dominique Aimee Jean, MD (@Dominique_Aimee) October 9, 2019
Moral of the story? Don't mess with Mindy Kaling.
After all, she is "the business bi*ch."
Most people know Kaling from The Office, but she's the star of another hit show. The Mindy Project: Season One is available here.
******
Have you listened to the first season of George Takei's podcast, 'Oh Myyy Pod!'?
In season one we explored the racially charged videos that have taken the internet by storm.
We're hard at work on season two so be sure to subscribe here so you don't miss it when it goes live.
Here's one of our favorite episodes from season one. Enjoy!