If you thought the worldwide phenomenon of "Baby Shark" was finally in the past, think again. "Santa Shark" is here, and that earworm is setting up camp inside our brains for the foreseeable future.
The creators of "Baby Shark," a Korean company called Pinkfong, released a new version this week that will have you tossing and turning with "doo doo doo doo doo" swimming in your head along with images of Christmas sharks.
Don't say you weren't warned.
If that wasn't bad enough, Japanese company Super Simple is getting in on the shark bandwagon introducing us to "Santa Shark" on November 29, 2018. Dear Lord, help us all.
Twitter is feeling the shark bite pain, but their kids are loving it. 
my kids like santa shark thanks youtube ????

— ???? (@VictoriaOGarcia) December 13, 2018
and now they even have Santa Shark out just for the Holidays!!

— cheri buescher (@cheri_buescher) December 14, 2018
Now there's a Santa Shark. Thanks @Will_MI77 #bipowerhour

— Mike Diehl (@xhead) December 11, 2018
It more of a Christmas horror. If I saw a shark santa, some shark reindeer, and a horde of shark elves coming for me, I'd be freaking out. Now we just need a santa sharknado.

— Casey (@CaseySisterson) December 11, 2018
If I could make any New Year wish, it would be that this Baby Shark bullsh- dies with 2018. I don't need "Santa Shark" pic.twitter.com/IPIuVtTSES

— Cam C. Wolfe ???? (@camwolfshot) December 10, 2018
Baby Shark craze calmed down. Then they bring out Santa Shark … much to my annoyance Rhiannon loves this version more than the first. It's 10:30, she's singing a mixture of both. She's 24. ????????????????????????

— KAYLEY ???? (@KayleyCowey) December 14, 2018
PARENT WARNING: THERE'S A SANTA SHARK. THIS IS NOT A DRILL. AVOID YOUTUBE DISCONNECT THE INTERNET

— Rick Lewis (@MrMutantes) December 14, 2018
Parents over on Facebook weren't faring any better.
Face it, parents, you lose, kids win! We don't see the shark franchise going anywhere anytime soon.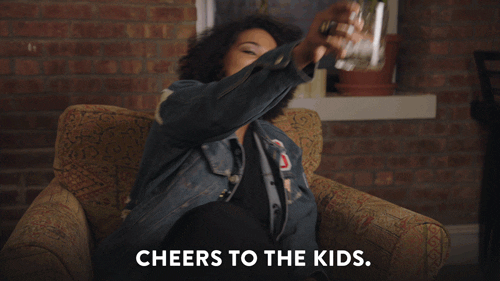 Here is a recipe for a Shark Bite cocktail. It might help take the edge off.
1 fluid ounce simple syrup
3/4 fluid ounce spiced rum
3/4 fluid ounce light rum
1/2 fluid ounce Blue Curacao
1/2 fluid ounce lime juice
2 cups ice cubes, divided
3 drops grenadine syrup
Directions
Combine simple syrup, spiced rum, light rum, Blue Curacao, and lime juice in a cocktail shaker. Add 1 cup ice, cover shaker, and shake until chilled, 10 to 15 seconds. Fill a glass with remaining 1 cup ice. Strain rum cocktail into the glass. Add drops of grenadine into the cocktail.
Merry Christmas doo doo doo doo doo to all!